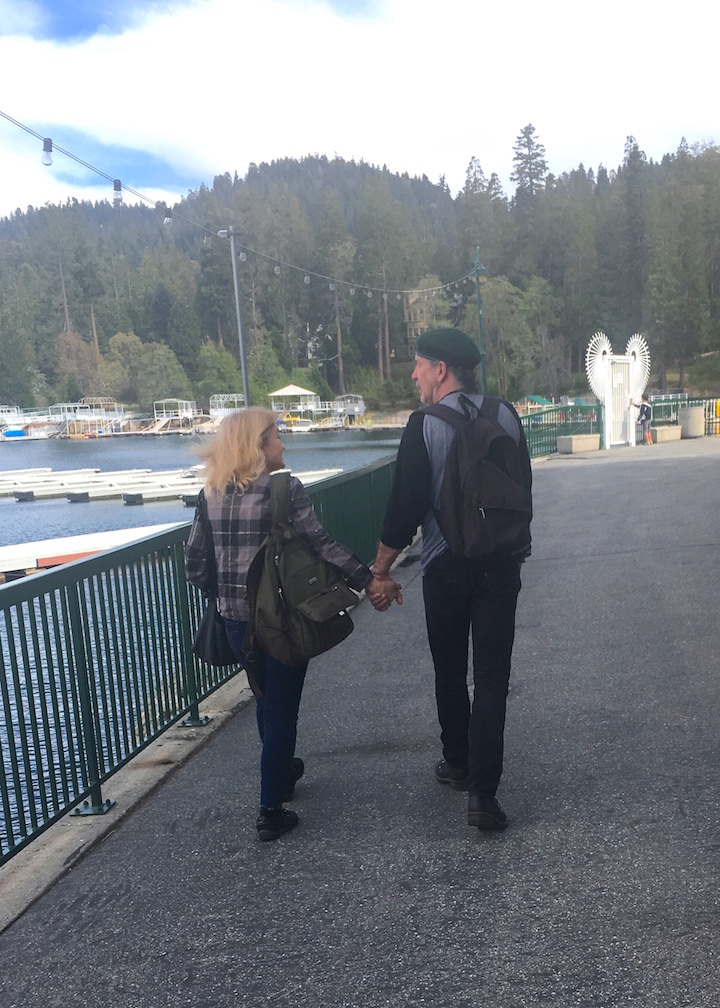 The imagination is so abundant, you have ideas that drop on hard, dry ground and never sprout, ideas that drop on fertile ground and do, ideas that drop somewhere between. Some of them you just let go by. Some of them will not leave you alone. Even then, some of them surprise you. Some ideas seem to sprout up overnight. Others need years to grow into a plant that bears fruit. When it comes to a songwriter's creative output, there is just no telling. That's probably true of a scientist hoping to prove a theorem as well. A lawyer delivering his or her final summation in court. A priest in search of an inspiring sermon. Emotions are super abundant. So is the sexual impulse. So is the imagination. There is no shortage of material to draw from. And really, since there is no shortage of ideas, no matter what you're working on, if it doesn't work one way, it will work another.
Here is a song of mine my brother Mark does. A song from the mid 70's, but all Mark's rendition, vocal and instrumentation. You can't imagine how proud it makes me feel to have someone bother to learn one of my songs. It's an honor not everyone gets to feel.
OH PRECIOUS MORNING 
MORNING_   IS A MISCHIEVOUS KNAVE
SOMETIMES I THINK SHE COMES JUST TO LEARN HOW TO BEHAVE
BUT EACH TIME THE SUN COMES UP_   SHE DISAPPEARS LIKE A CURIOUS PUP
AND LEADS US TO BELIEVE SHE SANG FOR SUPPER___
     MORNING_   I KNOW BETTER THAN TO GRIEVE
     YOU KNOW SOMEHOW YOU I'VE COME TO BELIEVE
     YOUR AFTERNOON DISGUISE_   HAS BEEN SEEN THRU BY THIS PAIR OF EYES
     AND I CAN TELL YOU THAT YOU HAVEN'T REALLY GONE ANYWHERE AT ALL
         OH___ PRECIOUS MORNING___
         I LOVE YOU SO___ WHY DO YOU GO___?
         OH___ PRECIOUS MORNING___
         SOMEDAY YOU'LL SEE___ YOUR ETERNITY___
(Instrumental break) 
MORNING_   I KNOW YOU SO WELL
YOU REMIND ME JUST A LITTLE BIT OF MYSELF
SOMEHOW YOU JUST CAME AND WENT_   AND TRYING TO HOLD ON TO IT
IS JUST LIKE TRYING TO LEAVE A DENT IN WATER___
     MORNING_   WHAT A BEAUTIFUL MIRROR
     YOU TEND TO MAKE ME WONDER WHAT I'M DOING HERE
     YOU KNOW I CAN GET ALONG_   IF YOU DON'T LAST ALL DAY LONG
     BUT WHEN I THINK ABOUT IT SEEMS LIKE YOU NEVER EVEN REALLY CAME AT ALL
(Cho.) (Instrumental break)
MORNING_   I'VE JUST BEEN IN MY MIND
I JUST RAN INTO YOUR WATCH DOG MISTER TIME
AND WHEN I SEE YOU JUMP THE FENCE_   IT'S TOO HIGH FOR ME AND IT MAKES ME WINCE
AND I GET LEFT BEHIND TO GREET THIS STRANGER__
     MORNING_   I WILL NOT COMPLAIN
     SOMEHOW I KNOW YOU WILL COME AGAIN
     OF LAST NIGHT I'M UNAWARE, I JUST ASSUME THAT IT WAS THERE
     BUT I OPENED MY EYES AND I LOOKED AROUND AND THERE YOU WERE
(Cho.)
         OH___ PRECIOUS MORNING___ 
         I LOVE YOU SO___ WHY DO YOU GO___? 
         OH___ PRECIOUS MORNING___ 
         AH, SOMEDAY WE'LL SEE___ OUR ETERNITY___
Written July 1975 
REPORT TO MANKIND © Copyright Jas Hilsdon, 2010